Reverb is a fundamental component of music production, widely recognized for its ability to enhance the depth, spaciousness, and ambiance of audio recordings. Whether you're an aspiring musician, an audio engineer, or a music enthusiast, understanding what reverb is and how to effectively use it is crucial for creating rich, immersive soundscapes. In this article, we'll explore the world of this audio effect, from its definition and various types to how to dial in the parameters and common mistakes to avoid when using it.
What is the meaning of Reverb?
Reverb, short for reverberation, is the persistence of sound in an environment after the sound source has stopped. When you clap your hands in an empty room, you hear a reflection of the sound as it bounces off walls, ceilings, and floors. This reflection, which continues until the energy dissipates, is a reverb. In music production, it is artificially created to add depth and space to a sound.
Reverb in Music
It is an essential tool in music production, as it can transform a lifeless, dry recording into a lush and immersive audio experience. Musicians and producers use it to simulate the acoustic properties of different environments, such as concert halls, churches, or intimate rooms. It can also be used creatively to add character and depth to specific instruments or vocals.
Types of Reverb
There are several types, each with its unique characteristics:
Plate: Simulates the sound of vibrations in a metal plate and is known for its bright, smooth sound.
Spring: Utilizes a coiled spring to generate reverb and is commonly found in guitar amplifiers, providing a unique, 'boingy' sound.
Hall: Emulates the spaciousness of concert halls, offering a lush and natural sound.
Room: Mimics the acoustics of smaller rooms, making it ideal for close-miked instruments and vocals.
Chamber: Similar to plate reverb, but it uses an acoustic chamber to generate it, offering a more refined sound.
Convolution: Uses impulse response recordings to recreate the acoustics of real spaces, resulting in highly realistic reverb effects.
How to add Reverb in audio
To effectively use the effect in music, you need to understand the key parameters:
Decay Time: Adjusts how long the tail persists. Longer decay times create more pronounced and sustained reverb.
Pre-Delay: Controls the time between the original sound and the start of the reverb, impacting the sense of space.
Damping: Alters the frequency response of the reverb, simulating how materials in an environment absorb sound.
Modulation: Adds subtle pitch and amplitude variations to the reverb, enhancing its natural character.
Experiment with these parameters to achieve the desired effect for your specific project.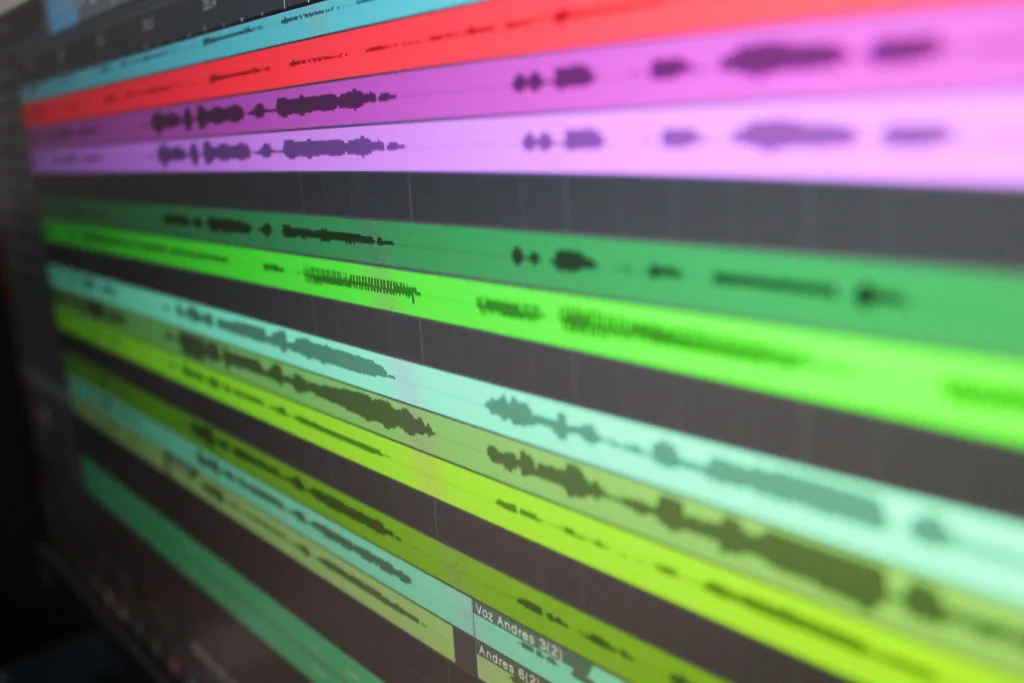 What does Reverb do?
It plays a pivotal role in shaping the sonic landscape of music and audio recordings. Here's what it does:
Spatial Enhancement: It adds a sense of space and dimension to sound. It can transport listeners to different environments, from intimate, cosy rooms to grand, reverberant concert halls. This spatial enhancement makes the audio experience more immersive and realistic.
Depth and Distance: By varying the amount of reverb, you can create a perception of depth and distance in your mix. Drier, less reverberant sounds will seem closer and more upfront, while heavily reverberated sounds will appear farther away, deep within the sonic space.
Emotional Impact: It can evoke emotional responses in listeners. A well-chosen effect can make a recording sound warm, nostalgic, ethereal, or haunting. It adds a layer of emotion to the music and enhances the overall impact of a song.
Glueing Elements Together: It can help blend different elements of a mix, making them sound like they belong together. It can smooth out transitions between instruments or vocals, creating a cohesive and harmonious sound.
Sustain and Ambiance: It provides sustain, giving notes and sounds a longer, more graceful decay. This can be especially useful for guitars, pianos, and other instruments. It can also add ambiance to a recording, making it sound less sterile and more organic.
How to Use Reverb in Music
Using it effectively in music involves striking a balance between enhancing the mix and avoiding over-saturation. Here are some tips:
Use reverb to create a sense of space for instruments or vocals.
Apply reverb to vocals to make them sound more intimate or ethereal.
Consider the genre and mood of the music; different styles may require various reverb settings.
Automate reverb parameters to create movement and dynamics in the mix.
Use reverb as a creative tool to add character or depth to specific elements.
Common Mistakes
When working with reverb, it's important to be aware of common mistakes:
Overusing reverb, which can muddy the mix.
Not tailoring it's settings to the context of the song.
Neglecting the importance of pre-delay and damping settings.
Ignoring the mix's context, resulting in a mismatched reverb sound.
Using poor-quality reverb plugins or hardware, leading to subpar results.
Where to Use Reverb in Music
It can be used in a variety of musical contexts:
Vocals: Adds depth and emotion to vocal performances.
Drums: Enhances the spaciousness and character of drum tracks.
Guitars: Creates ambiance and sustain for electric and acoustic guitars.
Synthesisers: Adds warmth and depth to electronic music.
Film and Sound Design: Adds realism and depth to audio for visual media.
It is a versatile and powerful tool in music production that can transform the way a piece of music is perceived. By understanding it's definition, types, parameters, and potential pitfalls, you can harness its creative potential and elevate your music to new heights. Use it wisely to immerse your listeners in a rich, three-dimensional sonic world, and you'll find that it's an indispensable asset in your musical journey.
If you want to learn more about audio effects, you can check out our blog on 'What is Compression in Music?'.