You must know the correct terminologies before you start creating. Your podcast's cover art determines how you represent your podcast and its contents visually at a scan. The cover art also impacts how your listener discovers your podcast.
Podcasters often confuse between a podcast logo and the cover art. They might seem the same but are entirely different parts of your podcast's branding design. A podcast logo is an image or a graphic that you can use across several platforms for branding.
Cover art is the design you upload on the podcast platform to attract the audience by giving them a glimpse of your podcast's subject.
Now that we know the basics let us understand how to start creating a great podcast cover artwork.
Why should you make a great podcast cover art?
The audience's attention span is decreasing by the day, and you need to stand out. A great podcast art helps you do that. Even if you choose a unique topic, the possibilities are that hundreds of other podcasts already cover it.
When the listeners come across your podcast, they scan your cover art first. The first impression is essential as it creates a perception of your podcast's tone, quality, and content.
Hoopr Tips : How to design a podcast cover art that stands out?
You want to create something different. But isn't that what everyone wants? How can you be different? It is challenging.
So, Hoopr prepared some tips to guide you.
Study your audience; choose a compelling subject and headline.
Good design is vital, and we agree. But it is essential to study and understand who your audience is. This study would influence your content and the design too. The purpose of the podcast is to get the attention of your target audience faster.
Thus, you need to consider the aspects like:
What gender or age group does the target audience fall under?

Are your audience already acquainted with your content and the topic?

Do they have a common interest that you want to target?
As you find answers to these questions, you would be able to get better clarity about the content and its tone. The tone would decide the cover art for your podcast as well. Say your audience is millennials. You would instead use an informal tone for the discussions.
Your subject and the headline of the podcast should be able to raise curiosity among your listeners. Someone scrolling through the feed comes across a great cover art and stops. Why would they click and listen? You must create that urge in them.
The headline, subject matter, and the text on the image should be able to grab attention. Make it readable and choose a bold font. Your cover art should not hide your text. Make sure you think of a headline that makes people click.
Hoopr tips:
Even if you choose the most fantastic topic that is unique and interesting, it is hard to grab the listener's attention.
So, you need to use a design that makes people curious enough to stop scrolling and clicking.
Most podcasting platforms have guidelines on how a podcast cover art must look like. Some of these guidelines include :
You need to take care of the resolutions. It needs to be 72 dpi.

The podcast cover artwork has to be a JPEG or PNG type.

Your art needs to be a minimum of 1400×1400 pixels and a maximum of 3000×3000 pixels.

It should have an RGB colorspace.
Apart from these technical aspects, you also need to make sure that:
Avoid the images with small details.

Do not use violent images or vulgar language.

Avoid blurry images.

Do not include any logos from the sponsors.

Use relevant imagery.
With these guidelines, you can optimize your podcast cover artwork for both desktop and mobile users .
Hoopr tips:
For Apple, the image should be under 500kb to make a great cover art for the mobile screens. As most of your users would be mobile users, this point is important for you to note.

Your artwork should not feature elements or texts too close to its edges. It might get cut off if you do not leave a proper margin.

Avoid the use of explicit images or languages.
Simplicity is the key to success.
To attract your audience in the midst of browsing, your artwork needs to be simple enough for them to make a decision in a matter of seconds.
Also, your audience wants a break from the noise. There is a dump of content on social media, and their eyes are tired. This is one of the reasons why minimalism is a trend now.
Hoopr Tips:
Too many fonts are confusing. So choose the one that fits right.

When choosing fonts, remember that while thin lines look great, you want your text to be readable. Opt for the fonts with thick lines and clear characters in bold.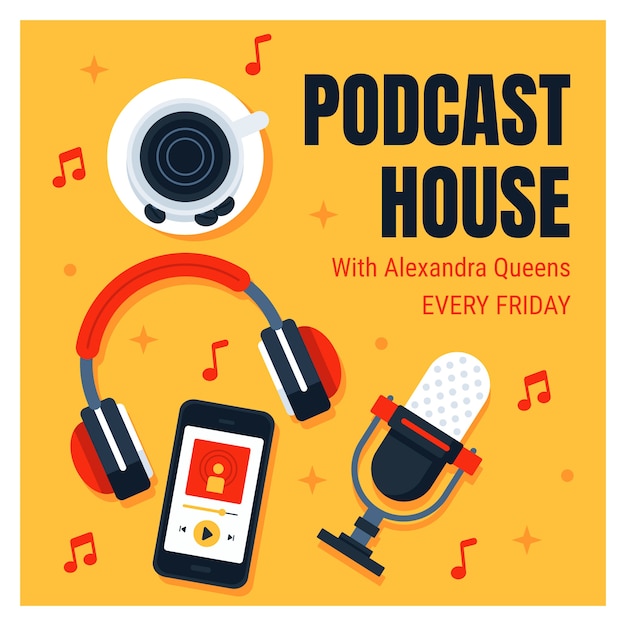 You must decide on a particular style before you get going with your podcast. It will help you have clarity and build a pool of graphics inspired by that style. But how do you do that?
We have a few pointers for you :
When you choose a style, you need to understand your audience. Your cover art should engage the correct audience.

Your podcast should showcase your brand and reflect the message. For instance, if you are talking about art. Use an example of a well-known art style that people can relate to and feature it on the artwork.

It should be recognizable on social media platforms. Check out your competitors to get a better idea.
Hoopr Tips:
Say most popular colors from your category use black. Use bright colors like yellow to stand out.

Using a contrasting color scheme in the podcast artwork makes it more appealing, primarily when using more texts.

Make the podcast art eye-catching, bright yet simple, and not cluttered.
Optimize the cover art for all devices.
Not everyone streams on their smartphones. Some would prefer to listen on their laptops while others on their tablets. So, you need to optimize your cover art, so it works on all devices. Test your cover art across platforms to get a winning design.
Hoopr tips:
Say people know your host, use their photo to highlight your podcasts' unique value. Tim Ferris uses this trick with his podcast artwork.
Sometimes photos seem mainstream. Use a fun character that resembles the celebrity's face to give it a unique funk and soul. For instance, the Bill Simmons podcast follows this trick.
Need copyright-safe music for your podcast? Here it is!
You do not have to worry about anything if you know how to get high-quality, premium tracks for higher engagement minus the scary copyright claims and legal notices.
Whether you create content for Twitch, YouTube, Twitter, or Instagram, you need to be well-versed in the different copyright laws. And as you learn more about copyright in music, royalty-free music, and more, it gets easier for you to ensure fair use of others' music as well.
And in case you are a YouTuber looking for copyright-safe music, Hoopr can help you learn about it, get royalty-free music, and skip the worry about legalities. Choose now to get going with your next video!