What sells the best? "Anything in the name of love!" While that is a joke, we all know how excited we are, looking forward to the day of love. You know you have an opportunity, and the customers are ready to invest.
Valentine's day is also known as the day of love; people buy gifts, flowers, and chocolates for their loved ones. Brands make perfect use of this day to step up with Valentine-themed products, offers, and social media content, connecting with the customers through them. In this article, Hoopr presents an overview of Valentine's Day and how you can look forward to it as a brand and invest wisely.
What are brands doing for Valentines? Examples that can help you get a better idea.
When you get an idea of what others are doing, it gets easier for you to plan better. So, let us dive into the campaigns of brands that are doing it right.
KFC partnered with the delivery brand Deliveroo to celebrate love in 2021. Couples shared their passion for fried Chicken and the brands' co-marketing campaign. The brands joined forces to deliver the extra dose of love, and the campaign was a hit.
The "Will Delive-roo be my Valentine?" campaign enabled the couples to preorder home delivery from their favorite KFC. KFC introduced the love meal combo. The meal included delicious Chicken with a KFC bucket ring crafted by Gemnesis. The ring with the Chicken was delivered safely to your home- what more do you need?
Doritos is known for its creative marketing campaigns. On Valentine's Day, Doritos designed a beautiful bouquet of Doritos roses in ketchup flavor and launched it in Canada. Being innovative, it got sold out pretty quickly. In fact, the viral campaign resulted in around 56 million video impressions rapidly.
Brands can learn a lot from Doritos' marketing campaign. This campaign was a hit for two consecutive years, and it was their creative take to the day. While the execution was unrelated to the day, it was still a hit. People are willing to spend, and your creativity can make you the next big creative agency.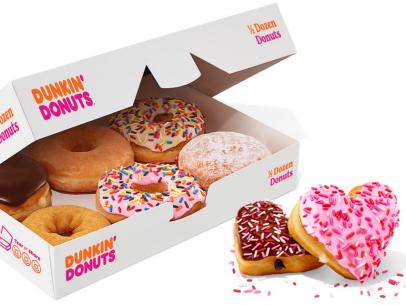 Dunkin' is a well-known brand for Valentines' day campaigns.They have a young target audience and sweets always fit into these campaigns. Their campaigns have a distinct style to it that the brand positions around "sharing the love by helping everyone."
Dunkin' empowers its customers to celebrate this holiday with someone close and associates themselves with one. They dive into the pink hue during this time, and with their treats to drink, everything turns pink.
Hoopr Tip:
Use videos to create an impact with a story. You can use animations or short stories with characters in them to increase engagement.

Use warm tones and your brand's story to stand out from the crowd.

Add a CTA and reveal an offer at the end.
Nykaa is India's leading fashion brand, and it celebrated the day last year by releasing a short film. It is beyond the general romantic cliches of roses and gifts and went ahead with unveiling five of our favorite heart-warming love stories. The film revealed many unexpected twists and turns, and people tuned in for around 4 minutes. It was unique and caught the attention of many.
If you check out the thumbnail, Nykaa has successfully raised curiosity with Sweta Dhanwanthary on the thumbnail. A sweet smile lightens the mood. The copy "Is this love" with a trendy hashtag is short and gets the point across to its audience. The green tone adds a very positive, feel-good, and loving vibe to it, making it viral with people sharing across platforms.
Sima Taparia is now a well-known face. She appeared on a Netflix show, "Indian Matchmaking," which garnered attention with a unique yet familiar theme. On Valentine's day, Burger King collaborated with her and played along with the show's hype. The campaign was a hit, and the Youtube video has thousands of views.
The thumbnail advertises Sima as the star of the video. It has yellow and blue majorly, giving it a positive vibe. Burger King does not use any text on the photo, keeping it clean and focusing on the headline for the message.
Where do you get the right music from?
You do not have to worry about anything if you know how to get high-quality, premium tracks for higher engagement minus the scary copyright claims and legal notices.
Whether you create content for Twitch, YouTube, Twitter, or Instagram, you need to be well-versed in the different copyright laws. And as you learn more about copyright in music, royalty-free music, and more, it gets easier for you to ensure fair use of others' music as well.
And in case you are a YouTuber looking for copyright-safe music, Hoopr can help you learn about it, get royalty-free music, and skip the worry about legalities. Choose now to get going with your next video!