Diwali, the festival of lights, is a time of joy, togetherness, and celebration for millions of people around the world. As the digital age continues to thrive, content creators have a unique opportunity to spread the Diwali spirit through various forms of media. Whether you're a YouTuber, a blogger, or an influencer, there are countless Diwali content ideas that can engage and entertain your audience. In this article, we'll explore some exciting content ideas, including video suggestions, festive activities, and more to make your Diwali content shine.
Diwali Video Content Ideas
Videos are a powerful medium for capturing the essence of Diwali. Here are some Diwali video ideas that can help you create captivating and meaningful content:
Diwali Decoration DIYs: Create step-by-step videos on how to make stunning Diwali decorations, such as rangoli designs, paper lanterns, and floral arrangements. Viewers love easy and creative decor ideas for their homes during this festive season. Share tips on where to find the best materials, and provide guidance on incorporating a personalised touch to your decorations.
Recipe Tutorials: Share traditional Diwali sweet and savoury recipes, like ladoos, kheer, or samosas. You can also add a twist to classic dishes by infusing them with a modern touch. In your videos, explain the significance of these dishes and share the stories behind them, making it not just a cooking tutorial but a cultural experience.
Diwali Makeup and Fashion Lookbook: Create Diwali-inspired makeup and fashion looks. Share tips on how to glam up for the festival and where to find the latest ethnic fashion trends. Dive into the significance of clothing during Diwali and how it ties into the festive spirit.
Family and Friends' Interviews: Conduct interviews with family members or friends about their Diwali memories, traditions, and favourite moments. This personal touch can make for heartwarming content. It's a chance to connect with your audience on a deeper level and allow them to get to know your loved ones.
Virtual Diwali Celebration: If you can't be with your loved ones in person, document your virtual Diwali celebration. Share how you connect with family and friends through video calls, virtual games, and shared traditions. This can be an emotional and relatable experience for those who can't be with their loved ones during the festival.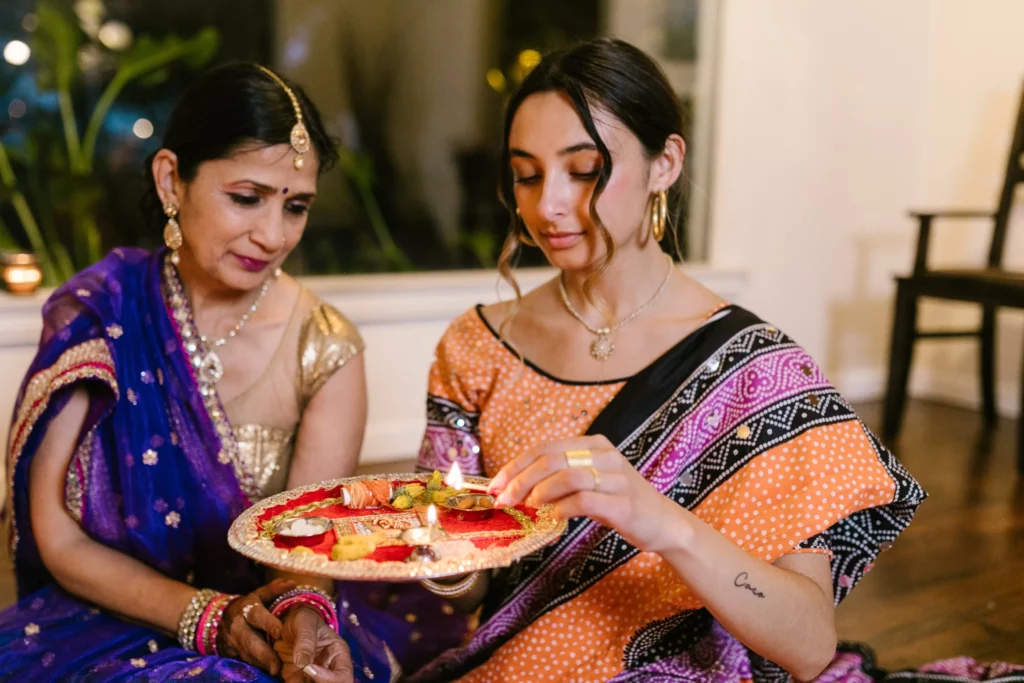 To soundtrack all your Diwali videos, use our 'Happy Diwali' playlist that is filled with beautiful, elegant and happy tracks!
Diwali Content Activities and DIYs
Diwali is a time for creative expression and fun activities. Share these Diwali content ideas with your audience:
Rangoli Art: Create a colourful rangoli art tutorial, showcasing different designs and explaining the significance of this traditional Diwali decoration. Explore the historical and cultural aspects of rangoli, making it not just a tutorial but a journey into its symbolism.
Candle Making: Teach your audience how to make decorative candles. Candles are an integral part of Diwali celebrations, symbolising the triumph of light over darkness. Explain the meaning of lighting diyas and candles during Diwali and how it's a symbol of hope.
Diwali Craft Workshops: Host virtual craft workshops, guiding your audience through the process of making Diwali-themed crafts like diya painting, toran making, or clay modelling. Share the therapeutic and creative aspects of these activities, emphasising their role in reducing stress and promoting mindfulness.
Eco-friendly Diwali: Encourage viewers to celebrate an eco-friendly Diwali by making their own organic colours for rangoli and promoting the use of sustainable, reusable, or recyclable decorations. Highlight the environmental significance of celebrating Diwali responsibly and how it can inspire a positive change.
Diwali Games and Activities: Suggest fun Diwali-themed games and activities that families and friends can enjoy together. This might include card games, storytelling sessions, or traditional dances. Show how these activities foster togetherness and bonding, making Diwali a truly special occasion.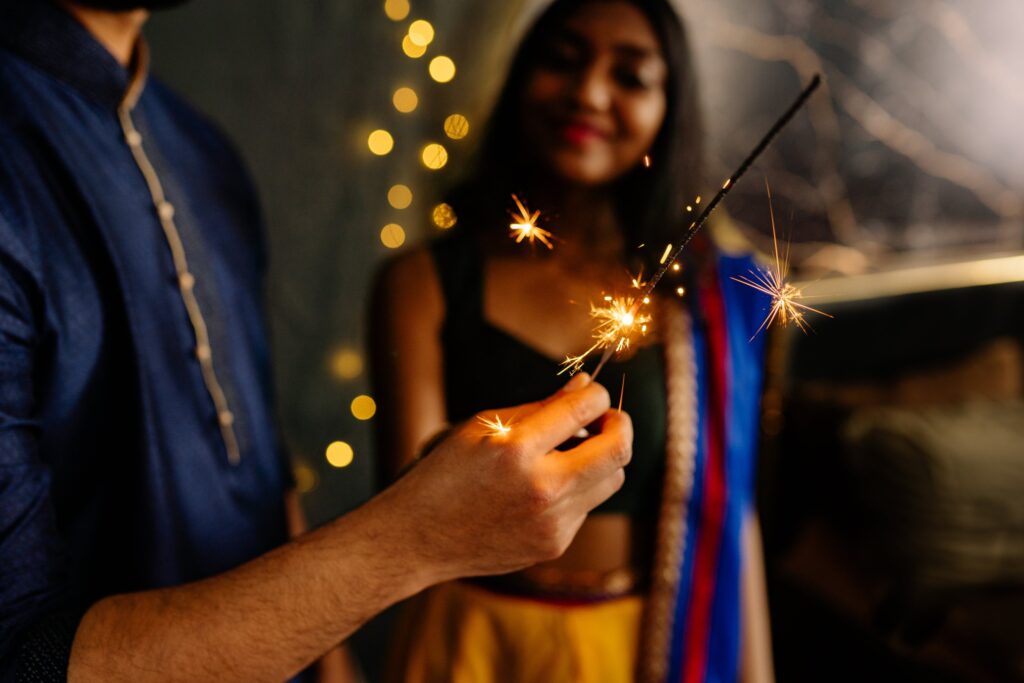 Diwali Vlogs and Day-in-the-Life Videos
A Diwali vlog or day-in-the-life video can provide an intimate look into how you and your loved ones celebrate the festival. Share your preparations, rituals, and the overall atmosphere during this special occasion. Engage your audience by taking them along on your Diwali journey, from dawn to dusk.
Diwali Shopping Guides
Help your audience navigate the bustling Diwali market with shopping guides. Suggest the best places to shop for gifts, clothing, and festive decor. Highlight unique and thoughtful gift ideas for friends and family, ensuring your viewers make the most of their Diwali shopping experience. Dive into the meaning of gift-giving during Diwali and how it's a way to express love and gratitude.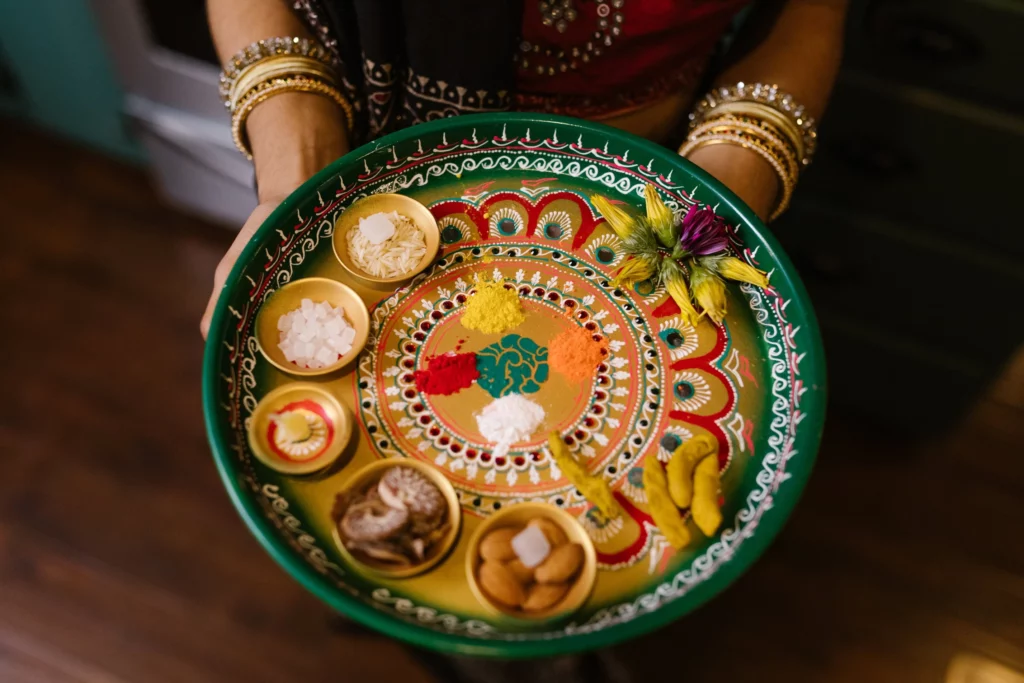 Diwali offers a wealth of creative opportunities for content creators. From video ideas to festive activities and more, there's no shortage of ways to engage your audience and share the warmth and light of this beautiful festival. So, whether you're a YouTuber, a blogger, or an influencer, embrace the spirit of Diwali, and let your content shine as brightly as the festival itself. Happy Diwali!